Service Department
WELCOME TO OUR SERVICE DEPARTMENT
Welcome to our Service Department. At Jacobson Ford, our highly qualified technicians are here to provide exceptional service in a timely manner. From oil changes to transmission replacements, we are dedicated to maintaining top-tier customer service for both new and pre-owned car buyers.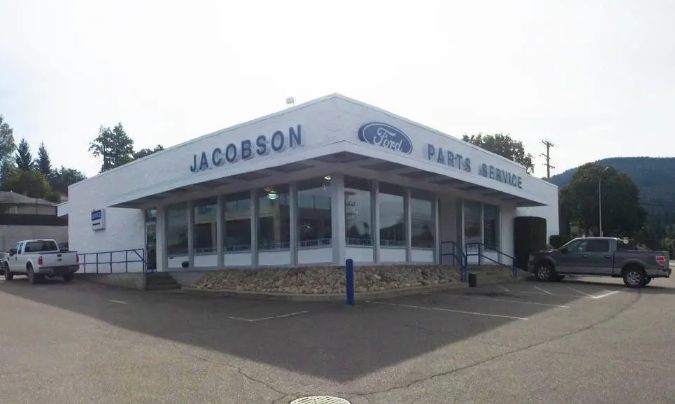 SCHEDULED MAINTENANCE
The easiest and most cost effective way to keep your car running strong and avoid costly repairs due to neglect. Scheduled Maintenance Service includes oil change, tire rotation and QC550 – a 54-point inspection. Technicians will check your vehicle's fluids, examine power windows, locks and mirrors, check the lights and signals, review your radiator and air conditioner as well as engine components, battery operation and cables, and the condition of your tires.
SEASON TIRE CHANGE
Winter tires offer superior grip in cold temperatures and help your vehicle stay on the road and under control in our rugged climate. Summer tires offer a balance between ride comfort and grip in order to get the greatest performance on your vehicle. Having two sets of tires is smart because it allows you to split regular wear between the two sets. When it comes time to change your winter tires to your vehicle's summer tires, or vice versa, come see the service experts at Jacobson Ford.
MOTOR VEHICLE INSPECTION
Commercial Vehicle Inspections as well as Out Of Province inspections are offered. These inspections ensure that your vehicle is safe and compliant with BC government regulations. If your vehicle happens to fail, we with with you to help correct the issue so that you can register or use your commercial vehicle as soon as possible. For more information about Commercial Vehicle Inspections or Out of Province Inspections, contact our expert staff at 888.534.9622
DIAGNOSIS AND DRIVABILITY

If your Check Engine light has come on and you're not sure what's wrong, schedule an appointment with our service department and our technicians will take a look at your vehicle and diagnose the issue. Likewise, if a recurring problem seems to keep happening, or you're concerned with the safety of your vehicle, our trained staff are efficient, capable, and will work with your schedule to get you back on the road. If you can see, feel, hear or smell something wrong with your vehicle, fill out this form to help us get the most complete idea of what is occurring.
ALIGNMENT & FRONT END INSPECTION
If you're starting to feel a difference in the way your vehicle handles, or you notice some wear issues or noises that weren't there before, you might need a front end inspection or re-alignment. A front end assembly includes a number of components, including your steering and suspension systems. The technicians at Jacobson Ford in Salmon Arm will ensure that all these pieces are working together property. They'll also have a look at your tires for alignment issues or uneven wear that can contribute to a difference in vehicle handling
AIR CONDITIONING OR CLIMATE CONTROL
Summer months hit the Shuswap and Okanagan regions hard with continuous hours of heat throughout the summer months. Proper working Air Conditioning is a necessity! There are a number of reasons why your Air Conditioning system may not be working, or working at less than optimal levels. Our repair experts will help diagnose the cause of your climate control failure, which could include leaks due to failed seals or hoses, failed compressor, damaged condenser or evaporators, vacuum leaks and a number of other issues.